AKA
That time I raced in the pouring rain and did so with a crazy grin.
This past weekend, on October 6th, 2013 I ran in my first
County Half Marathon
. It will not be my last. I loved everything about this race! It was set up so well, it was an awesome course and I got to spend some time with great friends before, during and after!
I had loads of fun with the gals for the retreat on Friday night and
Irina
joined us for a drink and some food as well. On Saturday I was up drinking awesome coffee and eating amazing bacon (cooked by a vegetarian no less!) before heading to the
Spa
for an amazing hydro + RMT massage where the RMT focused on my calves, trying to work out some of the PF pain I've been having. I then picked up my race kit and scored some sweet new compression socks:
Back to the
cabins
and I was ready for lunch and a 1.5 hour nap. Ahh. Retreat!
Up the next morning at 6am, eat, pack the car and pick up Irina and Zindine (who were also staying at the resort). While I woke up to rain falling on the cabin, by the time I started packing my car, it had stopped. YAY!
We stopped at Tim Hortons, I made use of the washroom thanks to the coffee Zin bought for me and then we headed to the finish line of the race in order to get the buses to the start. The half marathon race started at the half way point of the marathon and so we had to be bused out by 0830 for a 1000 start as roads were closed after for the full marathoners. It was cold, but I was prepared:
I ran into my friend Julie and Irina and Zin caught up with their friend James who was the catalyst for all of us running this race in the first place. We visited the loos and tried to keep warm in the tents. Not appreciated was being told by a lady in line, "Oh, the rain is going to
hammer us.
It's going to start just after we do." Julie (who spent summer's in the area) also told me that we'd have the wind the whole race.
Awesome.
Nothing more to do, then pose for a final photo like a fool:
No rain on these graves.
And we're off. KM1-7
Before we knew it, the time to start had come. I tossed my space blanket right at the gun and lost the ear bud from my yurbud. Irina and I stopped to look for it, but it was gone. Oh well. So much for starting around our pace people. We were going to run together for 3k as I warmed up and then I'd take off for my 12k of speedwork. Irina wanted to run the race in about 2 hours
and she did
! In the first 3k, we kept the pace, kept the conversation and passed, passed, passed. I knew right away this was going to be a fun race. There were loads of people about and the scenery was awesome.
When we were running under a canopy of trees, I noticed that it seemed like it was raining, but I figured it was just the wind shaking the wet from the leaves. Surely that woman's environment Canada app was all wrong? No time to worry about that, 3k was done and it was time to pick it up. I said goodbye to Irina, told her to keep to the centre of the road (which was fully closed for the entire route) and that I'd see her again at the end.
I breezed through the first few KMs of race pace work (target 4:58). The rain and wind had really picked up, but it wasn't really bothering me too much. I was starting to feel hungry and decided I'd break after 6k of pace work, eat a gel, take an easy 10th KM and start again.
5:43-5:33-5:29-4:53-4:54-4:56-5:09 (water station). Total: 36:37
Well, that's enough of that. KM 8-14
So, I glug down my GU gel and water and start up strong again on KM 11. Except things weren't feeling as easy anymore. The wind was crazy and the rain was pretty much like this:
I decided, screw it. I would never, never run a training run in this kind of weather. No sense trying to hold on here. From this moment on it was about fun with a F.U.N.
Though I admit to a moment where I wanted to do this: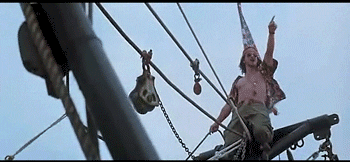 Okay, enough with the gif, but bonus points if you name the movies.
So, at this point I was all about FUN! I started to engage all of the volunteers and police officers and thank them for #makingtheretreatepic being out there in the rain. I'd look at spectators who were quiet and scream:
"Och! Tis a fine Scots day for a run! No but a wee mist, ken?" which got some laughs. And I fell into pace with the race director from Peterborough (whom I met at the start with Irina, Zin and James) and we chatted about getting a BQ race and running and running plans in general.
5:01-5:11-5:47 (GU)-5:03-5:14-4:58-5:10. Split: 36:24, total 1:13:01
I LOVE THIS. I LOVE TO RUN! KM 15-21.1
After chatting for a bit with the race director (I can't remember his name at all!), I told him that I needed a quick break so walked for a bit to sort out my shorts. I was starting to chafe on my inner right thigh due to the rain and I had to pull my shorts down a bit to compensate. Our first hill came at 16k and it wasn't bad, but I haven't trained hills at all during this cycle. Still, I got up it motivated by a lady parked along the side of the road, cheering with a cowbell and a sign: "Its a hill. Get over it." At the top of the hill, I stopped dead. Because there was a piper! I decided to do a jig and she played me along the road. I was starting to pick up and pass marathoners at this time and I made a massive point to tell them how amazing they were doing. The relay buses would pass us and I'd make a fool out of myself to get some cheers and motivation from the runners inside.
I also started to concentrate on chasing people down. This is something I need to work on and here was my chance. In front of me was a runner all in hot pink and it was like a sign (
Sam
always runs in pink). I chased her down and saw she was a marathoner. I stick with her a bit, over the 18k hill and into Main Street Picton, giving her encouragement, telling her things like I loved her socks or that she was right on time! Once we hit Main Street, Picton she pulled ahead and I surged a bit too. I had the worlds biggest grin on my face and I told all the spectators, "I love this! I LOVE TO RUN! Half marathon number nine, in the books. Send this one to the presses!"
I can not accurately express the joy I had in those last two kilometers. Sure, I could have run a lot faster and pulled in a better time, but I just wanted to enjoy the reward of the run. I hit the 20k sign, slowed down and bit and headed for the end, raising my hands in victory at the line and savoring the best thing this sport brings me. Not a PB or even a training run completed to perfection, but joy. The joy that keeps me running.
5:30-5:30-6:04 (jig!)-5:22-5:12-5:18-5:21, split 38:17, 260m - 1:16, total: 1:52:34
Time: 1:53:45 (first half: 56:43, second half: 55:50)
Chip: 1:52:32
Place: 117/520
Women: 41/330
AG, W30-39: 16/102
After
I got inside the Crystal Palace and found Zin and James. Zin CRUSHED his first official half marathon in 1:36:58 and James came in very nicely at 1:41:41. We were watching the finish on the TVs but somehow missed Irina and her rainbow socks because next thing we know, she's with us, celebrating hitting her goal as well! These awesome people paid the $4 fee to get my huge-ass 10th anniversary medal engraved with time and date on the spot and we got changed and came back for more food and refreshment before heading back to the cabin and then home:
I would run this race again in a heartbeat. In fact, I'd run this marathon and I'm sure I will at one point in my life. I loved everything about this day, even the rain. This race brought back a lot of the pure joy that has been missing from my running this summer as I've put in the work toward the Scotia Half Goal. I think the reminder of this joy has come at the exact right time.
Next up:
Scotiabank Toronto Waterfront Half Marathon
. The A-race of the fall and the reason I've pushed so hard all summer. While I'm going to go for it in a way I've never pushed myself before, I know this: The true reward is the fun that the run brings to you. This is what I shall strive towards above all else.