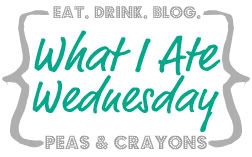 Joining in on
Jenn's
foodie-bloggie loving posting today, featuring the food I ate on Tuesday, May 14, 2013
First, I went for a lovely 7.5k run:
Just a beauty morning out there!
Breakfast of half a grapefruit and crunchy peanut butter and butter on whole wheat toast.
Snack once I got to work. Coffee (no sugar!) in the background. (And my emergency Coke Zero)
Hmm, odd rendering of this photo, but this was lunch.
Left over treats from an office meeting made for a wonderful snack around 3pm.
Dinner was rice and quinoa, chicken tenders sauteed in spices and olive oil and steamed broccoli and cauliflower
And my treat after the kids were in bed. 12 Rosebuds.
I hope you had a great day in eats as well. I'm back to calorie counting post marathon and am really hoping to get my weight down by 13lbs before my target fall race on September 15th. Allowing treats in a controlled way within my daily calorie limit like those rosebuds above will be key in my success.