Another round of What I Ate Wednesday! Its final taper week and work is crazy, but I'm still eating, okay I guess!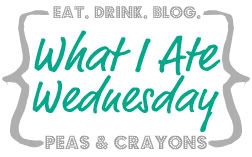 Rather then show you a boring photo of my eggo with syrup and blueberries, I bring you a cute photo of Fergus eating the very same thing for breakfast!
I was scheduled to be in all day training yesterday (I got pulled out one hour in and didn't return). I celebrated by enjoying this chocolate croissant with my usual Grande Bold.
As I missed my free lunch as part of training, I ran out to the food court and built my own salad with romaine, spring mix and spinanch topped with chickpeas, beets, feta, sunflower seeds and balsamic. I also enjoyed an olive roll with butter.
Dinner. Pretty standard on Tuesdays.
Post run goodness. I'm so close to the marathon and I'm doing well on tracking calories in versus out that I'm indulging! I also had some pretzels while watching Brett Lawrie walk off and home run to win the game for the Jays!
I promise that next week will involve what I ate on marathon day (4 days from now!)
Hope you're all enjoying good food!