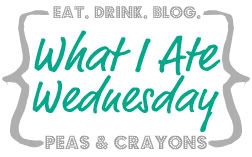 I bring you my new favorite post to write: What I Ate Wednesday!
(Note, all food in this post was consumed on Tuesday!)

6am Breakfast - Yogurt with 1 tsp of fish oil stirred in and a homemade whole wheat, oat bran and flax blueberry muffin (those are ice crystals on it, I make a batch and freeze them so I have breakfast options)

Shared with this guy (who was awake at the un-Godly hour of 0400.


THAT'S FOUR AM PEOPLE!):

8am, once at work (I like strong coffee and I always get a bold at the 'bucks. I don't mind Tim Horton's, but it is not my absolute fave):
It was a busy morning, so this snack of cantaloupe was eaten between 11 and 12:20 before I went for a run:
1:40pm lunch, mini quiche, mixed greens and cherry tomatoes with balsamic dressing and carrot sticks with hummus:
6pm dinner. Homemade turkey pot pie. Yes, we still have turkey in the freezer from Christmas. This was made with the turkey, a can of low fat cream of chicken soup, some s&p, some dried rosemary and frozen peas, carrots, corn, peppers and asparagus. It was so tasty, but I limited myself to the one piece:
Cranberry juice. Taken just to get those immunity plus drops down. Man, they are alcohol-y! (I also drank about 4L of water throughout the day):
9pm. Oreo truffles. Again, these are from Christmas and reside in the freezer. I should just bring them into work and get them eaten. So easy to make and so yummy!
I can offer the recipes for the muffins, the quiche and the truffles if anyone is interested. Just ask.
I must say again, that I love this post! It really makes me think about what I'm going to eat that day and reading all of the posts that get logged on the Peas & Crayons site gives me all kinds of ideas on new things to eat.
What did
you
eat today?