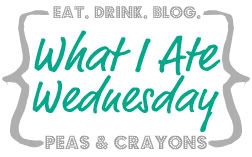 Featuring the food I ate on Tuesday, April 16, 2013
First, I ran 6k and dedicated the run to Boston. Then, I came home and enjoyed this lovely breakfast of whole grain Cheerios and strawberries in milk.
Hungry around 10am, so I ate my yogurt while I finished my coffee.
Snacks! Look at those beautiful nails!
I could not resist this when I saw it in my desk.
This is my spaghetti sauce being made on Monday night. Ground beef, peppers, onions, mushrooms and zucchini Amazing.
Dinner!
We went swimming and of course, once the kids were in bed I ate some nibs (not pictured).
So there is my day in eats! Today I get to go to the Blue Jays fantasy camp!!!! Look for a post about that tomorrow.