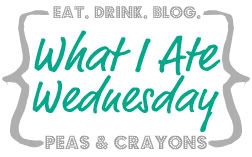 Here we go again! I'm joining Jenn's party and posting my Tuesday eats. You know, LOTS of people make fun of blogger/instagramers who only post photos of food. I read those sarcastic words and often wonder if I should even bother, but you know what? I like this weekly party. It helps me focus on eating a lot better (for Tuesday at least) and I get inspiration from looking at the other links. So, without further rambles:
I started the day with a 6k run and then came home to breakfast. Leftover waffles toasted up in the toaster with maple syrup and grapefruit no sugar. Amazing. We are always doubling our waffle recipe from now on so I can have a quick amazing breakfast.
Snacks around 10am
Lunch. You can't really see them, but I had some left over homemade meatballs with HP sauce with this massive salad. And yes, my new job has a patio and we ate outdoors in the sunshine yesterday.
Dessert!
I had booked a physio massage at 6pm, so I needed a snack before that as I didn't have time for dinner. She worked out my legs and calves and I'm going back next Tuesday for more work.
Dinner as made by my husband. Chicken breast on the bone, corn and long grain with wild rice. The sauce is a chipotle sauce. YUM.
After the kids when to bed, I watched the Jays come back lose again! I'm such a night time snacker! I know the key is to not buy these things, but well, um.... I don't have much shopping will power either. HAHA.
Off to join the link party and to see what you've all been eating.